A weekly update from Boston Organics.
There's a lot to celebrate this week! Whether you're preparing for an Easter brunch, a Passover seder or simply reveling in the start of spring, we have plenty of delicious organic goodies for you to enjoy.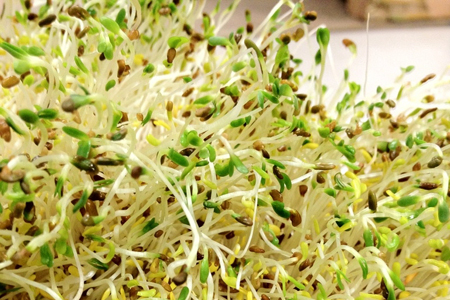 Alfalfa sprouts, leeks and collard greens are just some of the many gorgeous spring vegetables going in our boxes this week.
If you're trying to sneak some vegetables onto a loved one's plate this Easter you might want to try Southern Style Creamed Collards. Cooked in bacon fat and butter, then sprinkled with bacon and more butter, this is about as indulgently gluttonous as collards can get.
Those looking for something a little less heart attack-inducing might opt for a Smooth and Crunchy Vegan Sandwich. This sandwich features locally grown alfalfa sprouts and it's a great meal for veggie lovers of all ages. Organic sprouts are also a very healthy addition to soups, salads and wraps.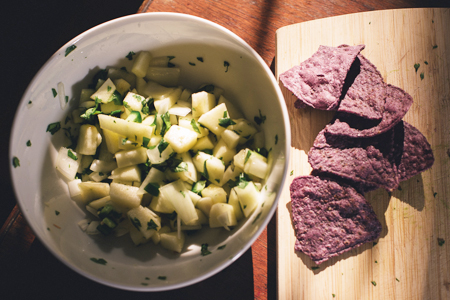 Spring is a difficult time of year for organic fruit growers. We're starting to transition out of citrus season and into the very beginning of stone fruit season. Usually we would see the first harvest of plums and pluots from Mexican growers by the first week of April, but difficulties with pollination has drastically limited the amount of organic stone fruit growing south of the border.
We'll hopefully see more stone fruit in May, assuming California can sort out their issues with the historic drought. In the meantime, we have juicy organic strawberries and a few other treats to tide us over.
We tested out this Heirloom Apple Salsa last weekend and loved the way the sweet honey and spicy jalapeno peppers combined when paired with salty blue corn multigrain chips from Late July. We might even make it again this Friday as a modern twist on the traditional Passover dish, charoset.
Almost any organic apple can be added to this salsa, including the Empire apples from Dwight Miller and Son Orchards. This salsa's a guaranteed crowd pleaser at parties, but it can also be used as a healthy addition to your late-night snacking routine.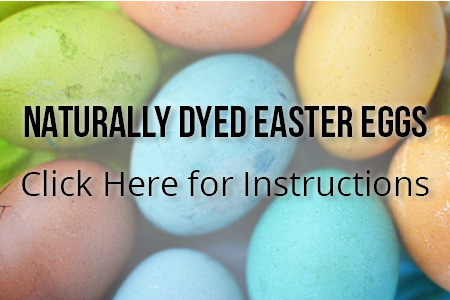 Want to dye eggs for Easter but don't want to bring a bunch of synthetic chemicals into your kitchen? Make natural dye out of organic beets, onions, cabbage and more! Click here for easy step-by-step instructions.
Enjoy your box and have a delicious week!