4/6-4/10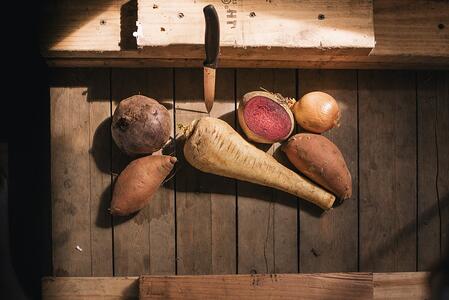 The ground has thawed in central Massachusetts and that can only mean one thing...it's time for spring dug parsnips!
Every fall, Winter Moon Farm harvests most of their parsnips so that we're able to enjoy them during the harsh New England winter, but Michael Docter always leaves a few rows of parsnips in the ground to "overwinter."
Once the snow covers the soil, the plants lose their shoots and leaves and the root begins to naturally convert its starches into sugars. In the spring, Michael pulls these super sweet and delicious parsnips from the cold, hard ground and brings them to share with the Boston Organics Community!
The organic rainbow carrots from Deep Root Organic Coop and the fresh cut rosemary from Happy Valley Organics' greenhouses add an extra splash of color to this week's Dogma Boxes.
Combine these goodies with the local spring dug parsnips, a knob of butter and a drizzle of honey and you've got yourself one delicious locally sourced dish.
Check out this amazing spring recipe and if you're able to obtain the perfect glazing, be sure to snap a photo and tag @BostonOrganics on Twitter or Instagram.
---
This Week's Local Produce
Rosemary

Radish Medley
Spring Dug Parsnips
Purple Top Turnips

Rainbow Carrots
Watermelon Radishes

Potatoes

Onions

Beets
Carrots
Celeriac
Kohlrabi

Empire Apples
---
All of the fruits and vegetables we deliver are grown without synthetic pesticides and are USDA certified organic. Interested in receiving produce that's both organic and locally sourced all year round? Check out our Local Dogma Box.
Similar to a CSA or farm share, our Local Dogma Box is filled with the best organic produce from local and regional farms and brought right to your door each week. It's the easiest way to eat like a locavore!