4/13-4/17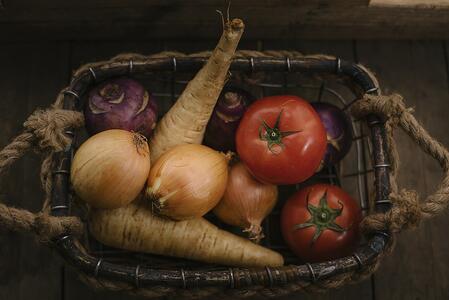 It's impossible to miss the plump organic tomatoes in this week's Dogma Boxes because they're the first locally grown tomatoes we've seen in a very long time.
It's still way too early in the season to get our hands on any local field grown tomatoes, but these beauties come to us by way of Deep Root Organic Coop's geothermally heated greenhouses.
One of Deep Root's member farms grows a mix of juicy red tomatoes and "pink rose" tomatoes, which are slightly paler but full of vibrant tomato-y flavors that will have you itching for summer.
The weather's warming up, but with a few April showers in the forecast this week it still feels a lot like soup season.
This week's recipe for Carrot-Parsnip Soup with Sunchoke Chips combines a few of the winter's finest root vegetables in one delicious blend. Winter Moon Farm intentionally left a few rows of parsnips in the ground over the winter and the lengthy frost has made these spring-dug parsnips particularly sweet!
This soup can be made entirely out of locally sourced organic vegetables and the addition of lightly fried sunchoke chips adds both a complementary crunch and a rich, umami flavor.
---
This Week's Local Produce
Radish Medley
Spring Dug Parsnips
Turnips

Sunchokes
Hot House Tomatoes

Empire Apples

Potatoes

Onions

Beets
Carrots
Kohlrabi
Rutabagas
All of the fruits and vegetables we deliver are grown without synthetic pesticides and are USDA certified organic. Interested in receiving produce that's both organic and locally sourced all year round? Check out our Local Dogma Box.
Similar to a CSA or farm share, our Local Dogma Box is filled with the best organic produce from local and regional farms and brought right to your door each week. It's the easiest way to eat like a locavore!