This Fourth of July make veggies the star of your backyard barbecue! With loads of local organic produce in season, we've created a delicious Independence Day menu that will satisfy your family and friends while utilizing the bounty of fruits and vegetables in your Boston Organics' box.
Snacks and Salads
A few easy-to-make appetizers and salads are the sure-fire way to satisfy those on-time guests while taking away some of the pressure for that first round of grilled delights.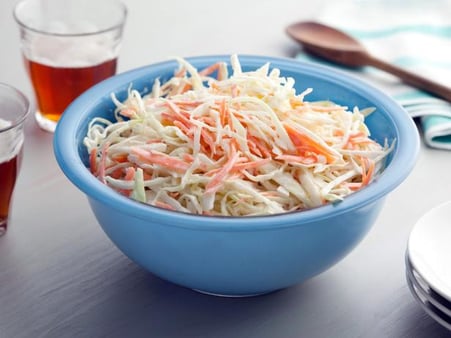 Grandma Betty's famous coleslaw is a fast and easy way to start off your Fourth of July party while using Atlas Farm cabbage and carrots. Salting your grated cabbage makes all the difference - softening the cabbage while preserving pickle-like crunch and preventing watery dressing. Plain organic greek yogurt can be substituted for some or all of mayonnaise to lighten up the dish.
Ingredients
1 large head of cabbage (or 2 heads of napa cabbage)
2 carrots
1 small onion
1/4 jar mayonnaise (or Organic Plain Greek Yogurt)
2 Tbsp cider vinegar
1 Tbsp celery seed
salt and pepper
Optional variations: add one peeled, grated apple or half a pineapple finely diced for a little sweetness. Or add slivered red or green bell peppers for additional color. Thinly sliced fennel add bright flavor. Dill, parsley or cilantro can be welcome here too!
Recipe
Cut cabbage in half and into quarters. Remove bitter core in center. Cut into small enough chunks that it will fit through a food processor equipped with smallest slicing blade.
Slice cabbage and place in large colander. Rinse thoroughly with cold clean water. Sprinkle liberally with salt and mix. Place colander in sink or on large plate to catch drippings. Allow to sit for approximately 30 minutes.
Vigorously squeeze excess liquid out of cabbage, one handful at a time - a clean dishtowel works well here. Transfer dried cabbage to large bowl.
Grate carrots and onion on small grating blade in food processor and add to bowl with cabbage. Stir in 2 Tablespoons cider vinegar, 1 Tablespoon celery seed, and sprinkle with pepper.
Add 1/4-1/3 jar mayonnaise (to your preferred taste and moisture level). Mix and adjust seasonings to taste. Will last for 2-3 days in refrigerator.
Recipe courtesy of Grandma Betty

The potato may be one of the most irresistible foods out there. This salad utilizes fennel, fresh herbs and spicy radishes to bring brightness and flavor to your snack table this summer.
Ingredients
Dressing:
3 Tbsp white balsamic vinegar
4 tsp Dijon mustard
1/4 tsp sugar
6 Tbsp extra-virgin olive oil
salt and pepper to taste
Salad:
1 1/2 pounds small, red potatoes, quartered (or cut into sixths if using larger potatoes)
4 bay leaves
salt
1/2 cup chopped fresh herbs (parsley, thyme, savory, fennel fronds or combination of herbs of choice)
3/4 cup thinly sliced radishes
1 fennel bulb, halved lengthwise and thinly sliced
4 scallions, tops and ends trimmed, thinly sliced
Recipe
For the dressing, whisk together dressing ingredients in a small bowl. Salt and pepper to taste. Set aside.
For the salad, place potatoes and bay leaves in a saucepan, cover with one inch of water and salt generously. Bring water to a simmer over medium-high heat and adjust heat to maintain a simmer until potatoes can be easily pierced with a fork (about 7 to 10 minutes).
Once potatoes are cooked, drain completely and pour into mixing bowl. Toss with all but two tablespoons of the dressing (save the two tablespoons of dressing for later use). Refrigerate for at least 30 minutes.
After refrigerating, gently toss with chopped herbs, radishes, fennel, scallions and remaining two tablespoons of dressing.
Serve and enjoy!
Recipe adapted from Oregon Live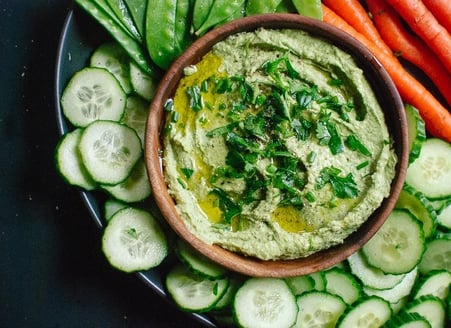 With the local vegetable season full gear, homemade hummus is the perfect accompaniment to the freshly harvested carrots, radishes, broccoli, cucumbers, and zucchini coming from our growers in Western Mass.
Ingredients
1 15oz can chickpeas
1/2 cup tahini
1 Tbsp minced garlic
1 Tbsp grated fresh ginger
1/4 cup cilantro
juice from 1/2 a lemon
1/4 cup water
1/4 cup olive oil
1 tsp sea salt
Recipe
In a food processor, blend the chickpeas until they are coarsely ground.
Add the tahini, garlic, ginger, lemon juice, cilantro and salt. Blend for a full minute or two.
With the processor still running drizzle in the oil and then the water. For an even smoother, thinner consistency add more water.
From the Grill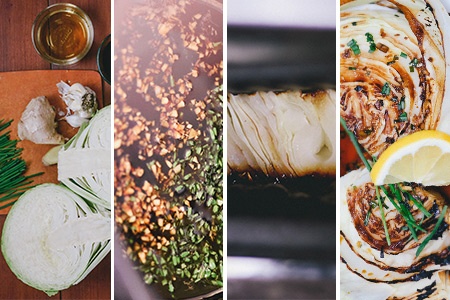 You've probably seen plenty of cauliflower steak recipes but cabbage steaks may be the next great thing. Slice, season, grill – it's as simple as that but guests won't be able to get enough of these crispy (and healthy) steaks. Choose your favorite seasoning combination or try our teriyaki cabbage steaks (pictured above).
Ingredients
½ cup soy sauce

½ cup mirin (or 1/4 cup honey mixed with 1/4 cup water)
1 Tbsp minced or grated fresh ginger
1 tsp minced garlic
2 Tbsp chopped scallions
1 small green or white cabbage, cored and cut crosswise into 1 1/2-inch slices
2 Tbsp neutral oil, like grapeseed or corn
Salt and black pepper
Lemon wedges for serving
Recipe
Heat a charcoal or gas grill to moderately high heat, keeping part of the grill cool for indirect grilling, and put the rack about 4 inches from the flame. Alternatively, heat a panini press or George Foreman grill according device instructions.
Combine the soy sauce and mirin in a small saucepan over medium-low heat and cook until the mixture begins to bubble, 2 to 3 minutes. Remove the pan from the heat and add the ginger, garlic, and the scallions.
Brush the cabbage slices with the oil and sprinkle with salt and pepper. Put the cabbage on the cool part of the grill, if using, and close the grill cover. Cook, checking and turning occasionally, until you can pierce the leaves easily with a sharp knife, 40 to 45 minutes. When the cabbage is tender, brush it liberally with the teriyaki mixture and move it to the hotter part of the grill. Cook, turning once or twice and brushing with more of the sauce, until it's browned, 3 to 5 minutes.
Drizzle the cabbage with any remaining teriyaki sauce, and serve hot or warm with lemon wedges.
If cooking with a panini press or George Foreman grill, press the cabbage wedges for about 5 minutes, flip, and repeat. When softened, remove from press and dress with sauce mixture.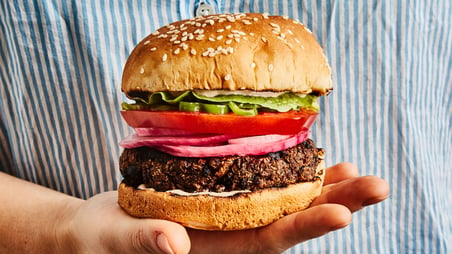 No barbeque is complete without a good burger! Recipes for vegetarian versions with bases varying from beans to grains to veggie abound. Recently we discovered this excellent recipe from the fold over at bon appétit. Check out their crowd-pleasing, grill-able veggie burger. Top with grilled Vidalia onions, Atlas Farm lettuce and sliced tomatoes.
Ingredients
2 Tbsp extra-virgin olive oil, plus more for greasing

1 14-oz. block extra-firm tofu, drained

2 15oz. cans Field Day Organic black beans, rinsed, drained well

¼ cup almond butter

¼ cup mayonnaise (vegan, if you are vegan)

2 garlic cloves, finely grated
4 tsp chili powder
2 tsps kosher salt
2 cups cooked quinoa, cooled

¼ cup flaxseed meal

2 tablespoons corn starch
toasted bun, grilled onions, tomatoes, lettuce, condiments for serving
Recipe
Prepare a grill for medium-high, direct heat. Clean and oil grate.
Shred tofu using the large holes of a box grater. Vigorously squeeze tofu in between paper towels to drain as much excess liquid as possible.
Heat 2 tablespoons of oil in a large nonstick skillet over medium heat. Cook tofu and beans, stirring occasionally, until beans look slightly dried out and their skins are darkened, 10–12 minutes.
While the tofu and beans cook, whisk almond butter and mayonnaise in a medium bowl until smooth. Mix in garlic, chili powder, and salt. Add tofu-bean mixture and cooked quinoa. Stir well to combine.
Stir flaxseed and ¼ cup cold water in a small bowl. Let sit until a thick paste forms, about 1 minute. Add to tofu-bean mixture along with cornstarch and stir well to combine.
Using oiled hands, form mixture into 8–10 patties about ½" thick. Grill until lightly charred around the edges, about 2 minutes. Turn carefully and grill until lightly charred on second side and warmed through, about 2 minutes more.
Assemble burgers on lightly toasted buns, topping with grilled onions, sliced tomatoes, lettuce, condiments and/or toppings of choice.
Recipe adapted from bon appétit
And lastly, something sweet!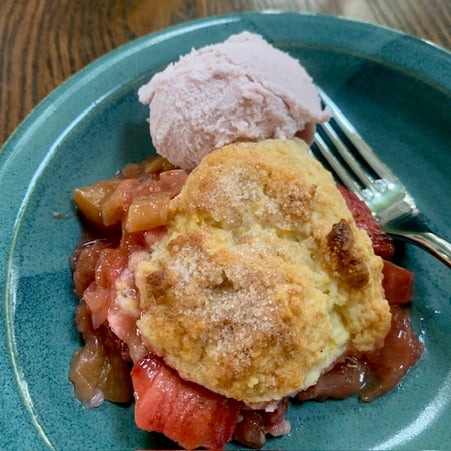 Finish your afternoon grill session with a fresh, sweet treat and solidify your backyard as the go-to party spot. With strawberries and rhubarb in season, this light and easy cobbler recipe, served with a dollop of cool, creamy ice cream is sure to be the perfect end to any July 4th celebration.
Ingredients
1 quart strawberries, washed and hulled
1 bunch rhubarb, washed, trimmed and cut into 1" pieces
1/3 cup + 1/4 cup + 2 tsp cup sugar
1 1/2 tsp vanilla extract, divided
1 Tbsp cornstarch
1 cup all-purpose flour
3 Tbsp yellow cornmeal
1 tsp baking powder
1/3 tsp baking soda
1/3 tsp salt
1/3 cup buttermilk (or regular milk plus 1 tsp lemon juice)
3 Tbsp unsalted butter, melted and cooled
1/2 tsp cinnamon
Recipe
Heat oven to 400. Place fruit, 1/3 cup sugar, vanilla and cornstarch in 9" round pie plate and toss to combine. Place in oven and bake until fruit releases juices about 20-30 minutes.
Meanwhile combine dry ingredients in large bowl. Combine wet ingredients in smaller bowl. Add wet ingredients to dry ingredients and stir gently with fork until combined.
Mix 2 tsp sugar with 1/2 tsp cinnamon in small bowl.
Remove fruit from oven. Pinch dough into 8 pieces and place on top of fruit about 1/2" apart. Sprinkle with cinnamon/sugar mixture. Return to oven and bake 15 minutes. Allow to cool slightly and serve with ice cream.
Adapted from Cooks Illustrated