Guest blogger, founder of wellness site The Balanced Bod and longtime Boston Organics customer Cara Mia Scinto, MS, explains how organic produce delivery plays an integral role in maintaining a healthy lifestyle.
---
Hi there Boston Organics Community!

I have been a member since moving to Boston from Syracuse, NY where my husband and I participated in our very first CSA. Boston Organics has become a staple part of our healthy, active lifestyles and those of our buddies in the Balanced Bod community.
Now, it's time to bring our circles together and get to know one another! Please follow along on social media (see bottom of post) and be sure to subscribe and never miss an update!
Healthy Eating Can Be Simple
When I work with health coaching clients online and in person, we chat in depth about the following steps to eating a balanced diet for better health and wellness.
1. Listen to your body
Eat when you're hungry and stop when you're satisfied. Becoming more mindful of our bodies' responses to the food we feed ourselves can help prevent over- and under-eating in order to maintain a healthy weight.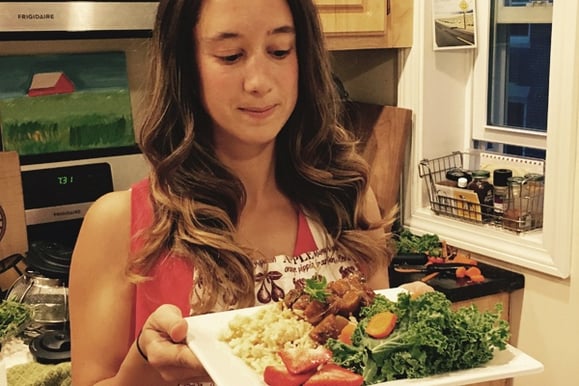 2. Drink more water
When we feel thirsty, we are actually already dehydrated, so drink up throughout the day! Hydration is key for reducing daytime fatigue and replenishing the cells for an active day.
3. Eat more fruits and vegetables, organic when possible
Fruits and vegetables are packed with nutritional goodness like antioxidants, vitamins, and minerals that stave off heart disease, diabetes, and other illness. Vegetables and fruits can be steamed, chopped in salads, and even consumed as beverages like cold pressed juices and Vitamix® smoothies as nutritious and delicious balanced bites!
I love Boston Organics so much because living in the city without a car usually means trudging to and from the supermarket with food-filled reusable bags. Having a box delivered to our apartment door alleviates any worries I have of getting enough produce for the week (and adds extra strength training carrying the box up four flights of stairs!).
Plus, it has been a fun and creative learning experience finding new kinds of veggies in the boxes. Check out this video of me roasting a celeriac and this video of what I did with my first Daikon radish.
Other important aspects of buying organic foods is that it supports local farmers and sustainable growing while ensuring the produce is protected from potentially harmful chemicals like pesticides and preservatives.
4. Be prepared
Do your best to make meals ahead of time if you know you will have a packed week. This is the proverbial meat and potatoes of what I work on with many of my clients. First, we determine the ingredients on hand for the upcoming week, and then plan a customized menu the whole family will love.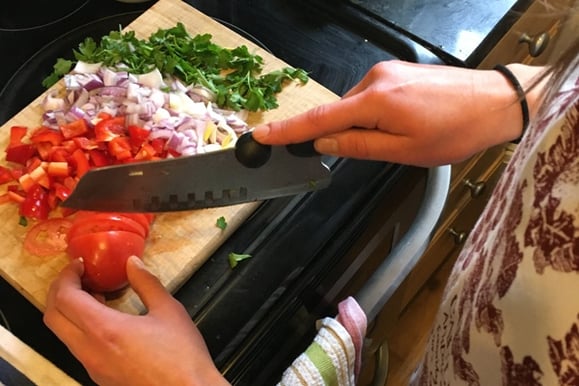 5. Don't be afraid of trying something new
We won't know unless we try and it's possible we will come away from the experience loving it! I admit, I wondered what the heck the celeriac was and what I was going to do with it when I got it in my box for the first time. Come to find out, I really like the taste and texture of this gnarly root vegetable which is packed with nutritional value!


---
That last point brings me to my growing business over on thebalancedbod.com. I conduct live, small group fitness and health education classes online using two-way video. (First class is free!) My website has an archive of free videos and a healthy recipe e-book. In addition, I offer health coaching sessions in Boston to people committed to healthy living.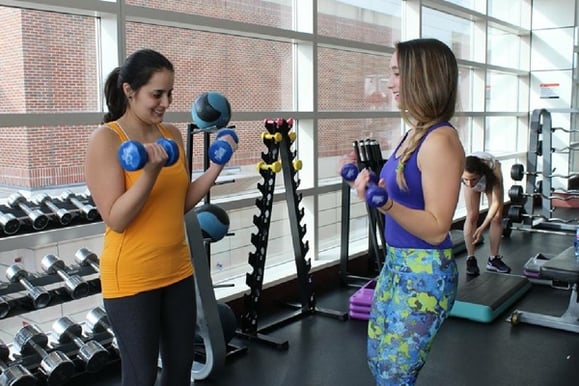 To learn more about how you can make balanced nutrition and overall wellness a bigger part of your life, request a free, ten minute consultation so we can get started on your journey towards better health, today!
Ready to sign up? Members of the Boston Organics Community
get 10% off any Balanced Bod service. Mention code "BOSTON O."

Follow Cara on social media:
Balanced Bites Healthy Cooking Group
Boston Events Group
Check out some videos of Cara "unboxing" her Boston Organics deliveries and making some creative recipes!
Unboxing 1 | Unboxing 2 | Unboxing 3 | Cooking with Dad | Red Velvet Beet Pancakes