For the second week in a row and the third time this winter, we're having trouble sourcing ripe bananas. And we're not alone. Head to your local super market and you'll likely either see empty banana shelves or shelves of green bananas.
The reason: Shipments of imported bananas have been delayed due to the winter storms we have seen over the past few weeks.
We know our customers have questions about the sudden banana shortage, so we wanted to do our best to answer them here.
Drum roll please...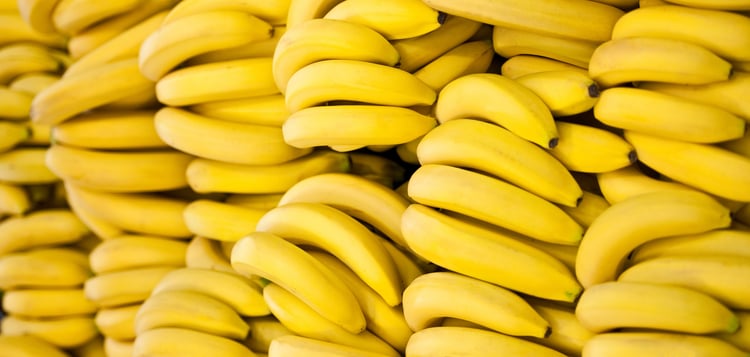 1. Why does snowy weather lead to green bananas?
A: We've talked about the incredible process involved in getting bananas from the farm to your home or office, which takes about a month. Commercial bananas are chopped and shipped while they are still green, so the delicate fruit won't be ruined on the voyage. They are then brought to ripening rooms filled with ethylene, a synthetic version of the hormone that naturally sets off ripening. The ripening process takes four days, but a delayed shipment of bananas might not spend as much time in the ripening room and arrive at the grocery store (or at our warehouse) greener than usual.
2. Is this going to be an ongoing problem?
A: The outlook for bananas in the short term is good. The winter storms that have plagued banana suppliers, delaying shipments and resulting in green bananas, should end soon. Spring is here and it should start to feel that way soon.
In the long term, bananas face a cloudier fate. Thanks to climate change, extreme weather will become more frequent and severe, so storms like the nor'easters we've experienced lately will likely cause more delays and shortages in subsequent winters.
3. Are more frequent and severe storms the only way that climate change is threatening bananas?
No! Other reports from the past few months have cited cooler than normal temperature in places like Guatemala and Mexico and flooding in Costa Rica as reasons for banana shortages.
4. Is climate change the only threat to bananas?
Again no! A new and virulent strain of the fungus is threatening Cavendish bananas, which account for 99 percent of banana exports. Known as Tropical race 4, it's the most critical menace to bananas globally.
Also, political unrest and labor shortages in some banana producing countries like Honduras have been contributing to shortages.
5. Are the banana shortages limited to organic bananas?
No, the conditions that are leading to a shortage of ripe organic bananas are having the same impact on conventional bananas.
6. What is Boston Organics doing to ensure more reliable access to ripe, organic bananas?
We've been in contact with a variety of suppliers in an attempt to track down enough bananas to satisfy demand over the next few weeks. That's the short term solution. In the long term, we're going to continue to do what we do -- to support organic agriculture at every turn, because preservation of soil and crop rotation keep farmland healthy, and chemical abstinence preserves the ecosystem .
We're optimistic that sunnier, banana-filled days are coming. In the meantime, we appreciate your patience. If you have any questions that we didn't answer with this post, please feel free to contact us.