Boston Organics is grateful to all of our farm partners who supply us with nutritious local produce no matter the season. The days are becoming ever-shorter, the nights colder, and farmers are starting to put the land to bed for the winter. Though their work continues, we are past peak local season in New England. In this slower time, we take a moment to reflect on the growing season, and themes we noticed during our early September visit to Atlas Farm, Lakeside Organics of Hadley and Queen's Greens, three of our farm partners in Massachusetts' Pioneer Valley.
Drought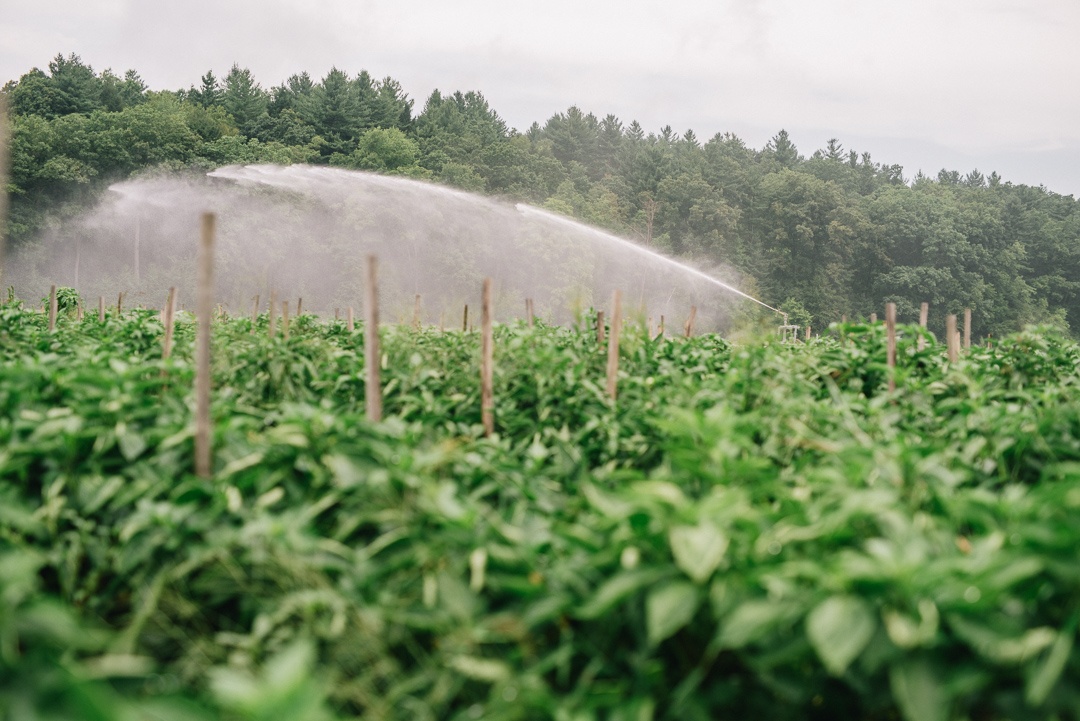 This year's historic drought was certainly at the forefront for many growers this summer. At Atlas Farm, Gideon Porth told us that he had never seen a season this dry, and that "even old timers in the valley say they have never seen conditions like this." For Atlas Farm and Lakeside Organics of Hadley, the dry summer meant a lot of irrigation, and a lot of additional labor to move sprinklers and lay irrigation lines. Matt Biskup, of Queen's Greens, told us that throughout the season, you could hear the rumble of gas powered pumps running up and down the Connecticut River.
Water is essential for growing crops, but when the rain won't stop, plants can rot and are more susceptible to disease. Tomato blight is a particular threat. The blight-causing bacteria lives in the soil and is more likely to infect plants in a wet season. "Usually we pray for dry," Gideon told us, "but we should have stopped praying a while ago."
"With the dry conditions, everyone has awesome field tomatoes," Danya Teitelbaum said as she showed us her tomatoes at Queen's Greens. She had not lost tomatoes to rot or splitting, and they were 100% blight free. This was the first season where she has not had to harvest tomatoes twice a week—though they are usually a hot item, there were simply too many growers with excellent tomatoes this season. Though much of the state is still in drought conditions, tasty tomatoes were a thin silver lining.
labor efficiency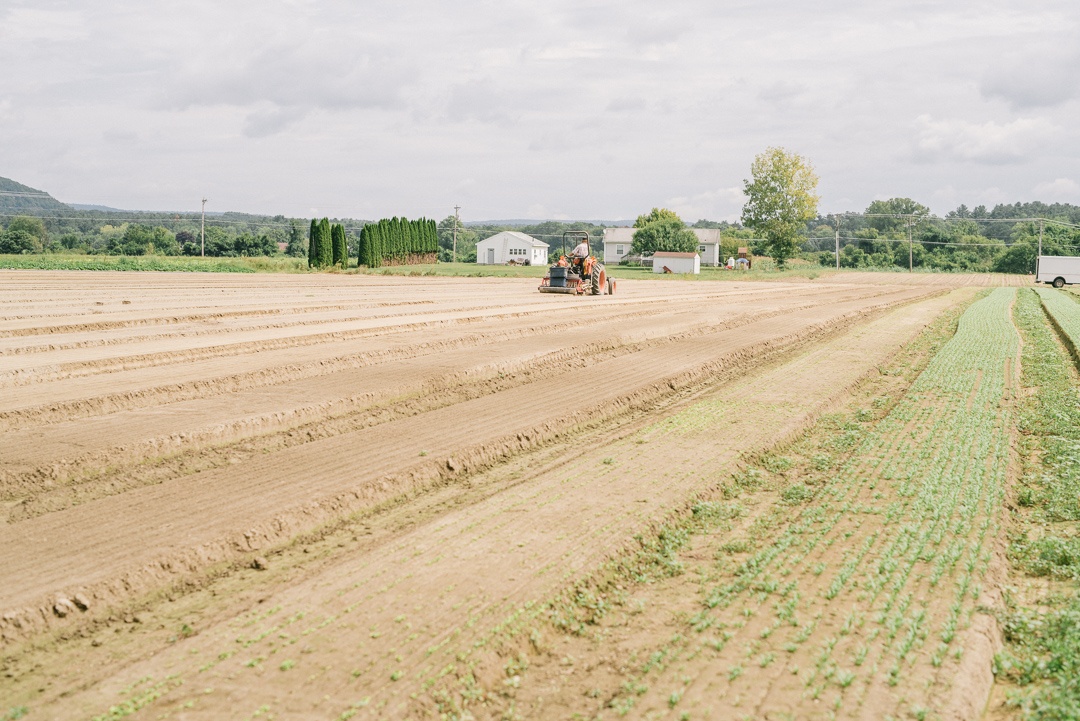 For the three farmers who we visited, labor efficiency is a constant calculation. Danya Teitelbaum told us that over the course of the three seasons she and Matt Biskup have farmed together, they have constantly worked to develop better systems and become more specialized and streamlined. Many of their tasks can be completed by just her and Matt on a tractor, including harvesting greens. One of them drives the tractor with a cutting tool behind it while the other pulls the cut greens into bins.
At Atlas farm, Chipper Sullivan gave us a tour of the farm's cooling operations. Produce on a small conveyor belt passes under a spray of cold well water to help bring down its temperature and ensure that it stays fresh. Though mechanization is a significant component of efficiency at Atlas, some things simply can't be mechanized. Weeding beets and carrots, in particular, must be done by hand and require a lot of labor to manage.
Experimentation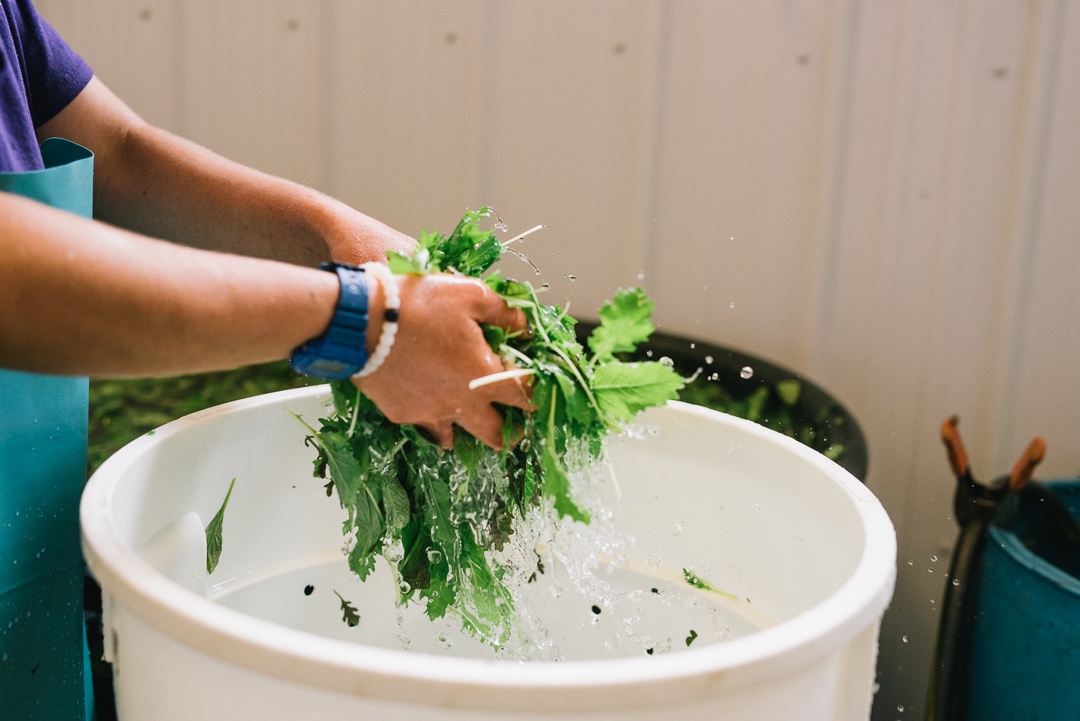 Our farm partners are constantly adapting their practices and experimenting with new crops and growing methods. Indicating to a shriveled row of cress amidst other fall greens, Danya at Queen's Greens mentioned that she tends to do a lot of experimentation, and should maybe scale it back a bit. But experimentation has yielded some exciting developments, including the perfection of their process for growing and washing salad mix, which involves greens spinners of their own design.
At Lakeside Organics, the fine-tuning and experimentation centers on trying new ways to add value to farm products. Joe showed us his veggie noodle operation, with spiralizers spinning out long strands of butternut squash, sweet potato and zucchini. In addition, he sells peeled butternut squash and jams.
collaboration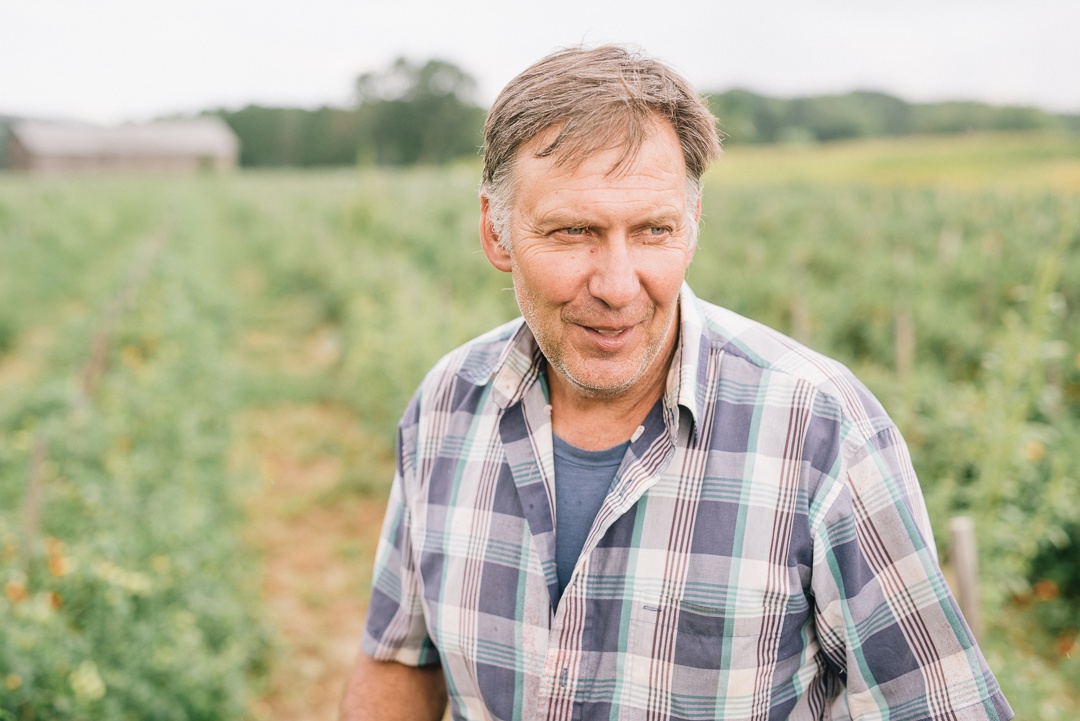 When we left Queen's Greens, we hopped in the car for what amounted to a thirty-second drive to Joe Czajkowsky's barn. When we arrived, we passed along regards from the growers at Atlas farm. As Gideon told us, though the farmers in the valley all do business together, it can be hard to get off the farm to collaborate face to face. That said, Chipper Sullivan added that he has been impressed by the equipment sharing that he sees among the valley's growers and the sense of community that exists among them.
In spite of the challenges of this growing season, our farm partners were able to grow beautiful produce using their deep knowledge and ingenuity. These farmers' dedication to organic growing practices will help ensure the health of the land for years to come, even as they continue to adapt to a changing climate. Throughout the year, Boston Organics is proud to collaborate with these and other local growers to help build a strong, sustainable food system and economy.