If being more environmentally-friendly was one of your New Year's resolutions, good for you! You already contribute to sustainability by choosing to support Boston Organics, and, by extension, organic producers. These growers don't pollute our soil and water with toxic pesticides and synthetic fertilizers and help build the soil to ensure that organic farming can continue for generations. This week, we're thinking about ways to reduce greenhouse gas emissions related to food, especially those associated with eating meat and with food waste. Read on for ideas for experimenting with reducing your food's carbon footprint.
Meatless Mondays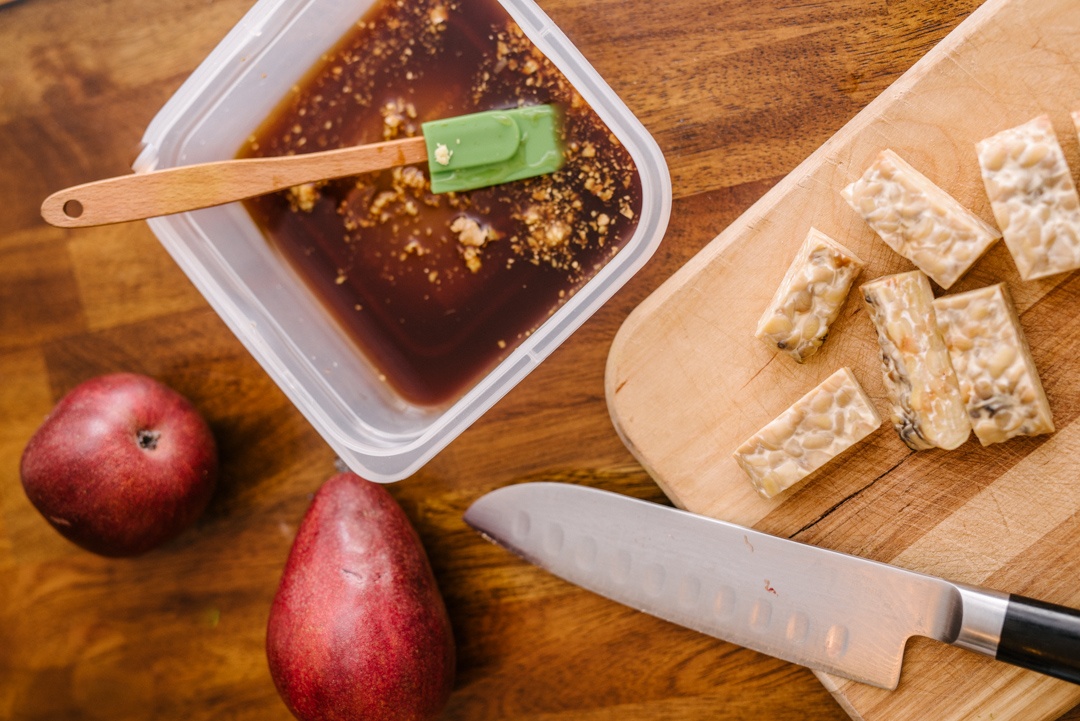 The meat and dairy industries are two significant contributors to greenhouse gas emissions. From the resources that go into producing and transporting feed to the methane produced in cows' intestines, getting animal products onto your plate can pack a real carbon-punch. Boston Organics supports omnivorous diets, but if you eat meat as the central part of a meal most days, consider trying to have one meatless meal or day per week. Trying this out will also give you an opportunity to move the produce from your Boston Organics boxes to the center of your plate and try out plan-based proteins, if that isn't something you already do.
Meatless meals are often a treat in themselves, and you may forget that there is something you intentionally left out. To highlight the fresh produce you receive, we like this Healthy Buddha Bowl. If you're feeling a bit more ambitious, this recipe for Miso-Glazed Tofu with Parsnips Two Ways adds a few steps and a boatload of flavor.
This week we're experimenting with tempeh. Like tofu, tempeh is made from fermented soy beans, but it's less processed. It has a slightly nutty flavor, and is a great addition to soups, stir-fries, or vegetarian chilis. Its texture makes it a ground beef substitute, and it stands up well when marinated. To get started, we recommend Tempeh Pear Satay.
waste not
Food waste accounts for another significant source of food-related carbon emissions. You can limit your food waste through judicious use of your produce preferences. If you know you don't like collards (or beets or bananas), indicate that you "Dislike" them, and we will be happy to remove them and substitute other produce in their place.
If you do receive an item you're unfamiliar with, don't panic or stash it in the back of the fridge to be forgotten. Planning meals and sharpening a few basic cooking skills will help ensure that you have the confidence and ability to cook anything that comes your way. Roasting is a key skill for winter months, while knowing how to fry an egg or make an omelet, like this one with garlicky mushrooms, can help you make a meal from anything. Check out our blog for back to basics tips.
Play with Your Food
If you're thinking about focusing on eating local as a way to reduce your carbon footprint, Boston Organics' Dogma Box may be a fit for you. New England's abundance continues year-round, with plenty of storage crops like squash, roots, cabbage and apples, as well as locally grown sprouts, mushrooms and herbs on a rotating basis. The best way to approach the Dogma Box is with a sense of fun. This week, make a purple-plate special featuring Sweet and Smoky Beet Burgers and red cabbage and kohlrabi slaw.
Have a delicious week!
---
This Week's Local Produce

All of the fruits and vegetables we deliver are grown without synthetic pesticides and are USDA certified organic. Interested in receiving produce that's both organic and locally sourced all year round? Check out our Local Dogma Box.
Similar to a CSA or farm share, our Local Dogma Box is filled with the best organic produce from local and regional farms and brought right to your door each week. It's the easiest way to eat like a locavore!