Though it may not seem like it given last week's snow, this week marks the beginning of spring, with the vernal equinox on Monday, March 20. Though there may still be remnants of icy cold snow on the ground this week, the produce in your Boston Organics box will remind you of the good things that come in this new season.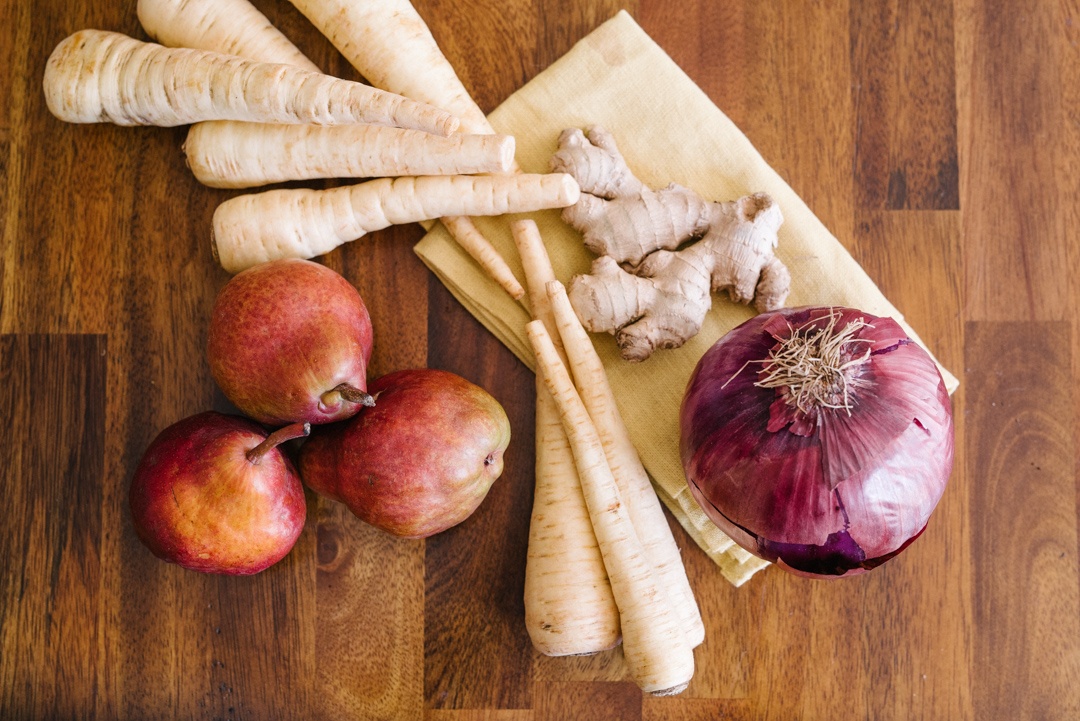 One of the most exciting items you will find in your box this week is a crop that members of the Boston Organics Community look forward to each year. Winter Moon Roots will deliver spring-dug parsnips. These special roots are left in the ground throughout the cold winter months, causing them to grow more flavorful for the spring harvest.
Make these sweet, slightly nutty roots shine by choosing recipes that highlight their flavor. Spring dug parsnips are perfectly complemented by juicy pears and spicy ginger in this simple and creamy coconut-based soup. If you really want to make parsnips the center of the meal, try your hand at making Parsnip Gnocchi. This fluffy and delicious pillow-like pasta is well worth the effort.
golden veggies
At the time of the spring equinox, night and day are of approximately equal length, which means that going forward, the days are only getting longer, and, hopefully, warmer. If you can't wait for golden sunshine ahead, turn to your Boston Organics box for special brightly-colored produce.
Boxes this week will include golden beets, also from Winter Moon Roots. Golden beets tend to be slightly more sweet and mellow than their red counterparts, making them a beautiful, but not overpowering, addition to salads, grain bowls or trays of mixed roasted roots.
We will also have delicata squash, a special treat since we haven't seen it in quite a while. It's a special treat because you don't have to peel off the thin and mild tasting skin. Just roast whole, smiling slices. Marinate these two sunshiny veggies in orange juice, mustard and maple syrup to help make them truly shine.
Mango must-have
We can't get enough of juicy, flavorful mangoes. It seems that no one can: mangoes account for nearly half of the tropical fruits produced worldwide. Now, you can order as many as you want; they are available as an add-on item.
Mangoes vary in size and color depending on the variety, but usually have a sweet yellow-orange flesh, covering a large, fibrous pit. The two most common varieties are Tommy Atkins, which are larger and tend to have a green and orange-red skin (these are the add-ons we have this week), and ataulfo mangoes, which are smaller, yellow-skinned, and have a smaller pit and creamy flesh. When the skin of an ataulfo mango gets a little wrinkly, it's perfect to eat.

Have a delicious week!
---
This Week's Local Produce
All of the fruits and vegetables we deliver are grown without synthetic pesticides and are USDA certified organic. Interested in receiving produce that's both organic and locally sourced all year round? Check out our Local Dogma Box.
Similar to a CSA or farm share, our Local Dogma Box is filled with the best organic produce from local and regional farms and brought right to your door each week. It's the easiest way to eat like a locavore!