Dips and spreads make the best kind of party food: they're easy to prepare, feed a crowd, and if you choose wisely, good for you. However their star power extends well beyond bashes - packing lunches is easier and snacking is healthier when you've got a delicious dip on hand. And if you toss them on the table during dinner prep, they're a great way to reduce pre-meal whining too.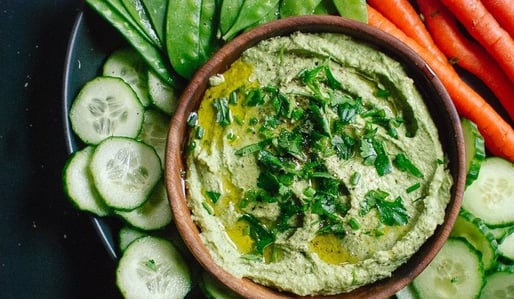 While raw veggies and chips are the ubiquitous dip-ables, there's a wide variety of directions you can go in your dips, from traditional salsas and hummus, to more exotic Baba Ganoush and Muhamarra, to everything in between. What they all have in common is being relatively straightforward to make and people pleasers! Choose your favorite from ours here or mix it up by trying something new to you!
Dairy-Based Dips, those traditional rich, creamy and delicious concoctions of yesterday, like French-onion or tzatziki, have gone lighter and healthier with the use of yogurt or tofu or nuts. Enjoy some guilt-free dips with these delicious recipes: Garlic Chive Greek Yogurt Dip, Swiss Chard Tzatziki, Tofu Onion Dip, Lemon Pesto Goat Cheese Dip, Feta Dip with Watermelon Radishes, Green Goddess Dip.
Guacamole, what's better than rich, creamy avocados with bright fresh jalapeños; sweet, earthy onions; warm and nutty cumin; made tangy and citrus-y with lime and cilantro? Now that we've got your taste buds fired up make some today with this tried and true recipe.
Salsa, which translates literally as sauce in Spanish, is commonly composed of tomatoes, onions and seasonings but variations can include a wide variety of uncooked fruits and vegetables. Let your imagination run wild creating your own using these building blocks:
hot and smoky like a chile - mild or hot, raw or roasted, pick your poison!

bulky and crunchy - a combination of raw fruits and vegetables such as tomatoes, cucumbers, radishes, corn, peppers, onions, apples, mangos, peaches

acid like lime juice or vinegar

flavorings like

cilantro, mint, basil, salt and pepper
Or check out some of our creative combinations here.
Hummus, that creamy paste of chickpeas, olive oil, sesame, garlic and lemon, oozes with rich umami flavors. It's wonderful as a bread or sandwich spread, as dip with pita chips or raw vegetable sticks or as a bed for roasted root vegetables or sautéed mushrooms - either way finish with a drizzle of olive oil and a sprinkle of parsley. Packed with tons of nutrients and minerals like vitamin B, iron, fiber and phosphorus Hummus is linked to many health benefits. Make some today using our Hummus Meal Kit complete with recipe card . If you're thinking; been there, done that, hummus is everywhere; try one of our variations with beets or dill and green herbs. Or make it fancy with Red Pepper Hummus in Cucumber Cups!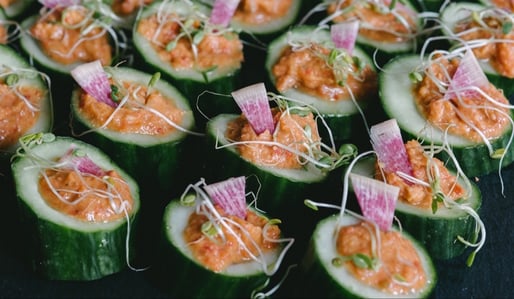 Baba Ganoush, Roasted Eggplant Dip, has many of the same ingredients as hummus, and both originated in the Levant, however instead of chickpeas, eggplant - roasted or grilled - forms the base. The resulting dip is smoky, earthy and silky in texture. Yum! Try our recipe today!
Muhammara is a Mediterranean condiment composed of lots of good stuff: walnuts, roasted red peppers, olive oil. It's all sorts of savory, sweet, slightly smoky, and just enough spicy! Delicious with chips or veggies, it's also great with grilled chicken, fish and seafood. Whip some up with this quick and easy recipe.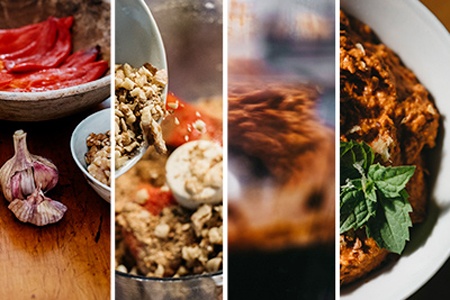 Let the dipping begin!