by Jeff Barry, Founder of Boston Organics
Boston Organics has always included "imperfect" produce. It's time we publicly communicate it.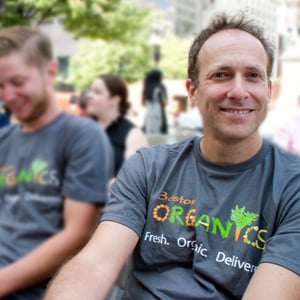 You've probably been curious about ugly, imperfect, b-grade, or seconds produce.
Since starting the company back in 2002, Boston Organics has always included ugly/imperfect produce. When our network of farmers have it available, it often results in additional savings or added value that we can share with the customer (for example: more items in the box).
With the local growers, the imperfect/ugliness is sometimes the norm and we leave it to the discretion of the farm to decide if they want to offer a discount. We don't ask, push or pressure them.
We give our farmers flexibility
We offer our customers a variety of produce to expect each week but our business model allows us to adapt to the seasonal changes that farmers experience in their growing/harvesting season. As a result, our farmers send us the best produce of that week. You can hear from some of our farmers here.
With the growing interest in seconds produce, we've explored offering a local ugly produce box. After some initial research - including talks with the farms we work with, we feel that it might not be appropriate or make sense to offer an exclusively ugly produce option from local/regional farms.
Compared to the farms in California where this concept started, the local farms are much smaller and need all the support we can provide. Our partner farms will occasionally offer us discounts if there is a bumper crop or if they feel the sizing is off. Although it might not be obvious, we always pass along this value/discounts to our customers. The result is often a blend between "ugly" produce and "grocery quality" produce.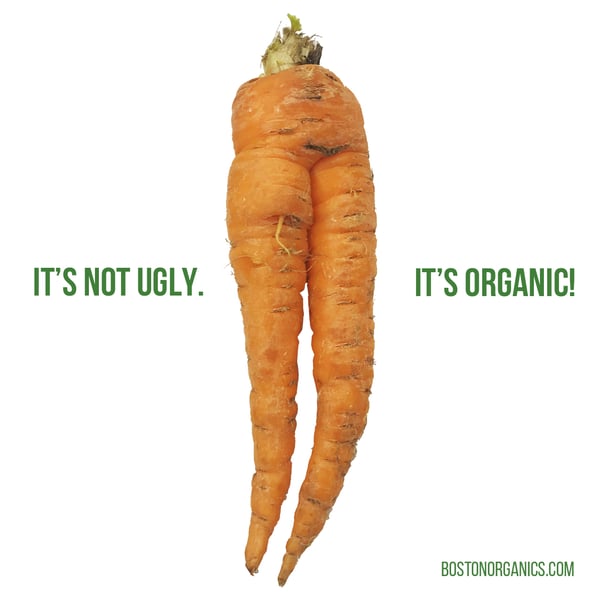 Reducing food waste starts in your home
According to the NRDC, Households contribute 43% of all the US food waste - followed by restaurants (18%) and farms (16%). More often than not, individuals will throw away a whole potato when there's a small blemish or bruise. There are ways that you can be more mindful of food waste at home. Here are some initial tips to reduce your food waste today:
Creative cooking: find new recipes and don't be afraid to tweak them for the produce you have! Recipes calls for 1 carrot, but you have 2? Dice up that second carrot, some more crunch won't hurt!
Meal preparation: If you're having trouble cooking often and then your produce goes bad, meal prep! You can spend 1 day a week cooking up a storm so that your meals are quick and nutritious throughout the week.
Donate to your local charity, church, after-school program, or organization! Boston Organics donates our excess produce to Food For Free.
Share with your neighbors, family, or friends! Don't throw away the extra sweet potato pie you made. Share a slice with your neighbors and maybe you'll make life long friends!
Compost: When it doubt, try not to throw it out. Produce that's composted reintroduces nutrients back into the soil for bountiful future harvests. Our friends at Bootstrap Compost are a great composting service.
With all of that said, we do not want to confuse ugly/imperfect produce with poor quality/overripe/rotten/old produce. It is our job to avoid delivering poor quality produce. So if you ever receive anything that is not of good quality, please let us know.
I am very happy and humbled that we have customers willing to accept ugly produce as part of their order. Your support is very helpful to the local farms we work with and is ultimately an important step in building a healthy food system.
If you have any more questions about imperfect/seconds produce, feel free to leave a comment below or email us at service@bostonorganics.com