Spring is in the air and with it the daylight time and energy to break out of our winter doldrums. Perhaps your pantry has acquired an inventory - canned goods, snacks and other processed foods - more worthy of winter (and Covid) dormancy than Spring brightness and warmth. Well, that's easily fixed with our tips for building a pantry worthy of the vernal equinox and the fresh seasonal produce to come.
Every spring, we like to go through our pantry and brush away the old cobwebs. Whatever you call it - spring cleaning, the end of hibernation or step three of Operation Beach Body, it's time to clear out your pantry and fill it with healthy, seasonally appropriate items. Here are six essential staples you should have in your pantry as spring arrives.
1. Quinoa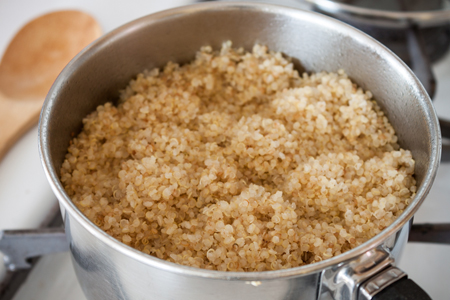 Much has been written about quinoa over the last couple of years. While there has been some controversy over the best way to source it responsibly, this South American grain is indisputably one of the healthiest you can buy.
Quinoa is a complete protein, one of the few foods containing all nine essential amino acids. It is also high in fiber and iron, has a low glycemic index and is gluten free—making it a great food for people with diabetes and celiac disease.
With a fluffy texture and mild, slightly nutty flavor it's a perfect base for spring cooking. Try adding nuts and dried fruit or salty cheeses and fresh herbs. Here's one of our favorite quinoa recipes: Kale Salad with Orange Champagne Vinaigrette.
2. Apple Cider Vinegar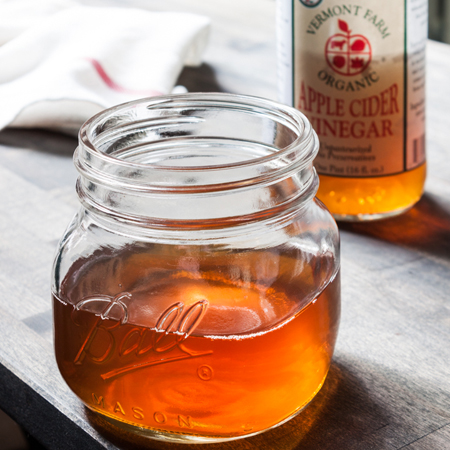 Apple cider vinegar not only tastes great; it's also is great for you. When digested as part of a meal, vinegar has been shown to increase insulin sensitivity and significantly lower spikes in blood sugar. Some people use apple cider vinegar to quell burgeoning sore throats, which makes sense because the acetic acid in vinegar has proven antimicrobial effects. It also helps with digestion.
We sell a flavorful, unpasteurized apple cider vinegar from Dwight Miller and Son Orchards. The Millers have been growing apples in Vermont since before it was a state and their cider press has helped keep the local family farm in business in years when the apple harvest fell short.
In addition to being a great ingredient in spring salad dressings and marinades, apple cider vinegar can be used to relieve sunburns or as part of a homemade disinfectant spray. If you face an unexpected fruit fly infestation, it's also an integral ingredient in creating an effective fruit fly trap.
3. Vegetable Broth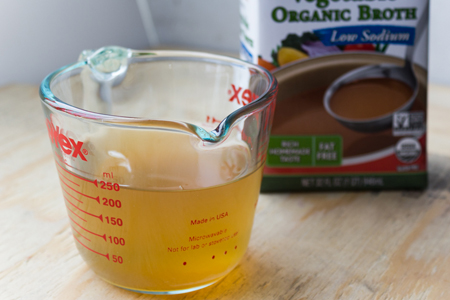 Homemade vegetable broth may be easy to make, but we don't always have the time or energy. Fortunately, vegetable broth is relatively inexpensive and when you buy a certified organic brand, Imagine, you know it's made with quality ingredients.
Vegetable broth is a fat-free and low-calorie way to add a ton of flavor to basic spring dishes.
Cook your rice or quinoa in equal parts broth and water and you'll be amazed with how much richer they taste. Saute or steam your veggies with a little vegetable broth to help mellow their flavor and keep them from drying out or add a splash to your tofu or tempeh to take it to the next level.
Use vegetable broth to make any-time-of year Classic Minestrone Soup with whatever vegetables you've got on hand!
4. Dried Fruit and nuts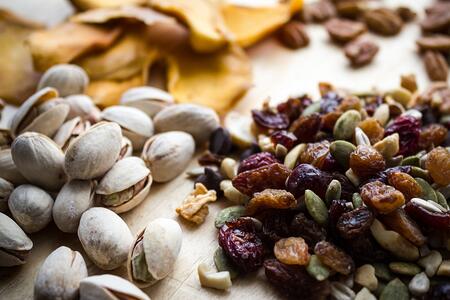 It's spring and everything is beginning bloom, so naturally you're craving something fresh and sweet. However, the best of the season's fruit is still on the tree, waiting to ripen under the summer sun.
Keep your pantry stocked with an assortment of dried fruit to snack on in the early spring. If nothing else, it will stop you from spending half your paycheck on the post-Easter candy sales.
Dried mango is one of our favorites, but you can also get dried pineapples, apples, apricots, cranberries and grapes (which for some reason are called raisins). Throw some in a baggie for a quick snack or mix it with nuts - chocolate covered or plain make your own spring trail mix!
Dried fruits and nuts make great additions to DIY Grains Bowls.
5. Coconut Milk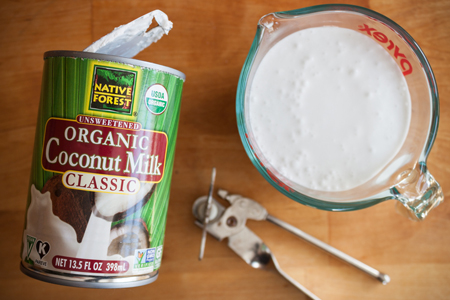 Coconut milk is a staple in many Asian cuisines and a delicious source of healthy fat, especially for those following a Paleo diet. Made from the pulverized flesh of fresh coconuts, this creamy ingredient is perfect for soups, curries and sauces. As a plant-based milk, it's also a tasty substitute for dairy in vegan desserts and smoothies.
Look specifically for organic, unsweetened coconut milk made with coconuts from responsibly raised groves and packaged in a BPA-free can. Native Forest is our favorite brand because it's also non-GMO verified and certified gluten-free.
6. Maple Syrup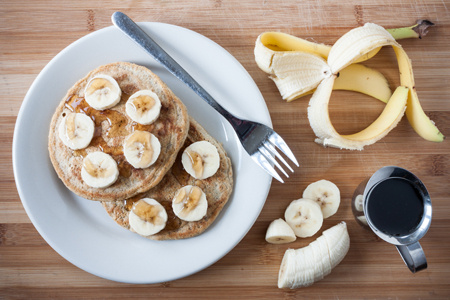 Early spring is synonymous with maple season in New England. The fluctuation between freezing nighttime temperatures and warmer daytime temperatures builds pressure in maple tree trunks and causes their sap to start flowing naturally.
Unlike "pancake syrup," which is usually just artificially colored high fructose corn syrup, natural maple syrup has a high concentration of minerals and antioxidants, which makes it much healthier than other sweeteners by almost any metric.
Maple syrup isn't just for pancakes and waffles anymore. Use it to sweeten your coffee and tea or to brighten up roasted vegetables. You can also use it to replace refined sugar in almost any baked good, but remember to add a 1/2 cup less of water to the recipe for every 1 cup of maple syrup you use.
Pure maple syrup should be stored in your fridge once it's opened. Supposedly, it can last there for several months, but it always gets eaten too quickly for us to find out for sure.
--- ----- ---
All of these essential pantry items, along with many more organic groceries can be found on the Boston Organics website and delivered to your door for free with a weekly assortment of organic, seasonal produce.