There's nothing quite like the aroma of a delicious meal permeating throughout the house, accompanied by the warmth from a fired-up oven. Take advantage of the season's local produce with hearty recipes and start your day off right with help from your trusty oven and green Boston Organics box.
Back to the Roots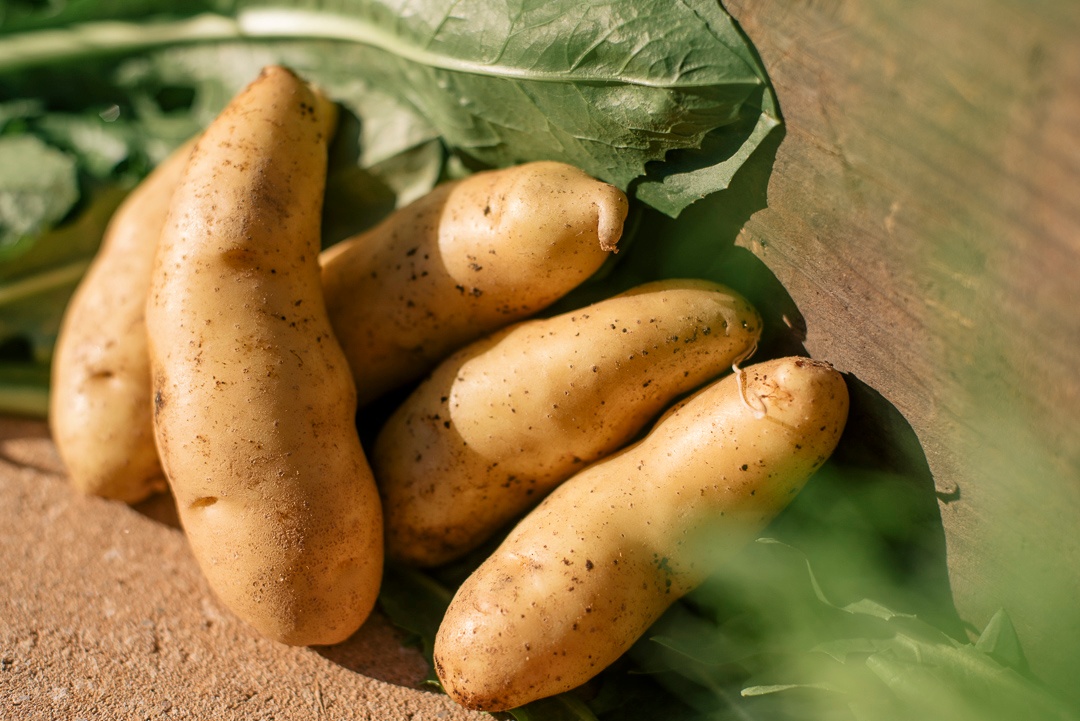 Our farm partners continue to keep us connected to locally-grown produce, and the generosity of New England soil. This week, rutabagas and shallots come to us from Blue Ox Farm in Enfield, New Hampshire. This certified organic family farm was started on two acres in 2002, and has since grown to a 15 acre enterprise growing over 30 varieties of crops for co-ops, restaurants, and the farm's CSA.
Atlas Farm, one of our oldest farm partners, continues to deliver watermelon radishes, beets, carrots and turnips, while spicy daikon radishes come from Winter Moon Farm, another longtime partner. Make the most of all the roots in your box with this versatile Root Vegetable Gratin recipe. It's a delicious one to have in your repertoire no matter what roots come your way.
We will also have fingerling potatoes from Deep Root Organic Co-Op in Johnston, VT, which has helped connect growers and consumers since 1986. The co-op consists of 23 member-owner farms in Massachusetts, Vermont and Quebec who banded together to help each other access markets beyond their immediate community. Enjoy the fingerling potatoes from Deep Root this week roasted hasselback-style for a crispy treat. They are even available as an add-on, so you can stock up on as many of these precious tubers as you'd like.
Mile High Veggie Pie
This week, we're savoring some Vegetarian Pot Pie. You'll love this vegetarian twist on a comforting classic meal, filled to the brim with hearty veggies. This recipe is pretty versatile too – feel free to experiment with different vegetables. Shallots from Blue Ox farm will make a special substitute for leeks, while Atlas Farms' carrots add a touch of sweetness.
Breakfast Fans
We are always questing for the ideal breakfast, from low-stress meals for the whole family to tricks for preparing breakfast in an office kitchen. One that we're feeling excited about this week, you guessed it, comes piping hot out of the oven. Prepare a batch of Banana Bread Baked Oatmeal to feed a crowd, or save leftovers so you can heat individual servings in the microwave for hassle-free mornings later in the week. The best part is that almost all of the ingredients are available as grocery add-ons, making this slightly sweet and filling breakfast an even bigger win.
Have a delicious week!
---
This Week's Local Produce

All of the fruits and vegetables we deliver are grown without synthetic pesticides and are USDA certified organic. Interested in receiving produce that's both organic and locally sourced all year round? Check out our Local Dogma Box.
Similar to a CSA or farm share, our Local Dogma Box is filled with the best organic produce from local and regional farms and brought right to your door each week. It's the easiest way to eat like a locavore!