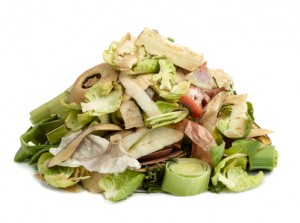 Food waste is a HUGE problem in the United States. According to the U.S. Department of Agriculture's Food Loss Project, we throw away 30-40 percent of all the food we produce for domestic sale and consumption.
There is a significant amount of food waste in the food service industry (supermarkets, restaurants, etc.), but we as consumers also waste a lot of food without realizing it. Throwing out leftovers, trashing food scraps and letting food spoil can really add up over time.
Here are some things you can do at home to minimize the amount of food you waste.
1. Feed your friends. If you have extra food that you won't be able to eat, invite friends over for a potluck or bring some to your neighbors.
2. Donate to the hungry. There are too many hungry people in our communities. You can make a difference by donating excess food to food banks, soup kitchens and shelters. Be sure to call first to confirm that an organization will be able to accept the type of food you are looking to donate as there are regulations around prepared food.
3. Compost your food scraps. There are tons of online resources to help get you started. Keep a compost container with a lid in your kitchen, and it will be easier than ever to keep food out of the trash. (In addition to your veggie scraps, did you know you can compost coffee grounds, egg shells, and hair?) If you don't want to compost yourself, you can sign up with one of our local composting organizations like Bootstrap Compost or Black Earth Compost. If you live in Boston you can drop off food scraps at one of the Project Oscar compost bins.
4. Freeze your leftovers. Next time you cook a large batch of food, put the leftovers in a bag or other container in the freezer. You'll enjoy the fruits of your labor for a long time to come.
5. Reorganize your fridge. Keep what you have in sight, so when you open your fridge you'll know what needs to be eaten. If you keep leftovers towards the front of the fridge in clear containers, you're much more likely to remember to eat them.
6. Donate food scraps to your local farmer. Area farmers may take food scrap donations so they can feed it to their animals or turn it into fertilizer. It's a great way to bring your consumption habits full-circle.
How do we reduce food waste at Boston Organics?
Composting and food donations play a significant role in keeping food waste out of our operations.
Every week, an amazing Cambridge-based organization called Food for Free comes by our warehouse to pick up our leftover produce from the previous week. Food For Free rescues fresh food that might otherwise go to waste and distributes it to the community's most vulnerable populations through meal programs, food pantries, emergency shelters, hospitals and clinics, and youth programs in Cambridge, Somerville, and Boston.
In 2019, we donated 38,345 pounds of produce to Food For Free. We are so thankful for the hard work that they do to help provide access to healthy food for the people who need it most.
Black Earth Compost's mission is to divert the nutrients in compostable material from landfills and incinerators, and return them to our soils as a natural fertilizer and soil amendment. Every Friday, Black Earth Compost comes to our warehouse in Charlestown to collect the expired produce from our bins. Black Earth Compost will also pick up compost from other businesses in the area before finally heading back to their facility in Manchester, MA.
In 2019, we diverted 9,600 lbs away from landfills and composted with Black Earth Compost!
Read more yearly stats: 2019, 2018, 2017.