It's late summer which means the days are getting a little bit shorter and the nights are getting a little bit cooler. What this also means is that a plethora of pepper varieties are reaching their full maturity, turning into their ultimate color destiny and finding themselves in many Boston Organics' produce boxes! To celebrate peak pepper season we created The Boston Organics Pepper Guide. Check it out!
Bell peppers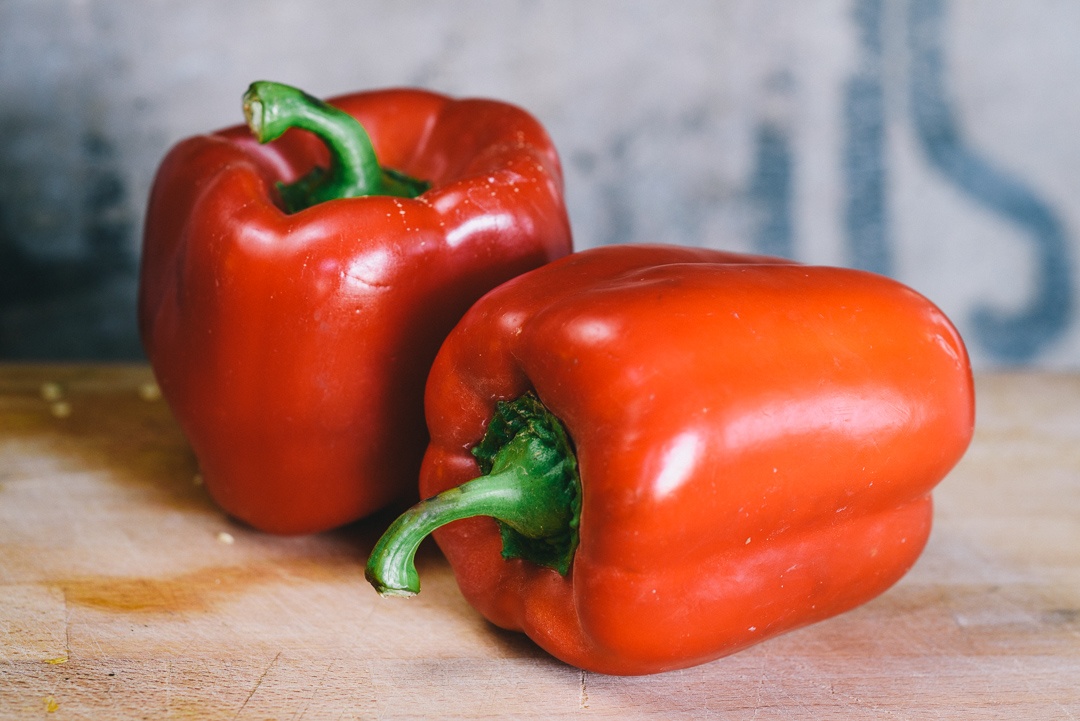 Everybody loves a classic, right? Well the bell pepper has come to be one of the most classic peppers in the United States. Red bell peppers, pictured above, are simply a more mature, fully ripe green bell pepper. Same goes for the yellow, orange, purple or even chocolate bell peppers you may find in your boxes - they begin green and as they remain on the plant, turn color and grow in their sweetness. That's why green bell peppers can often be a bit more bitter than their colorful peers.
Bell peppers can be enjoyed raw with dips, stir-fried, roasted, stuffed, and more!
Scoville Heat Units: 0
Poblano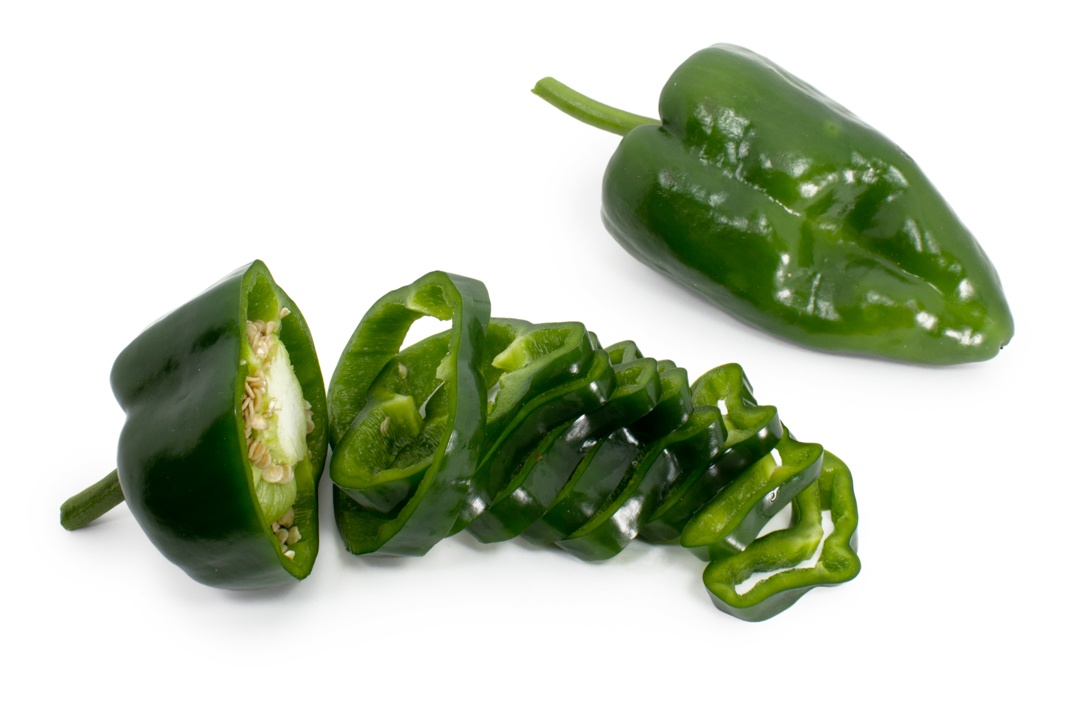 Poblanos are a perfect mild chili pepper. Commonly found younger and dark green, these peppers pack a little bit of heat and are great for grilling or stuffing. As poblanos mature, they become dark red in color and then are often dried and in their dried form are called ancho chiles.
These are the classic peppers in Chiles Rellenos.
Scoville Heat Units: 1,000 to 2,000
Jalapeños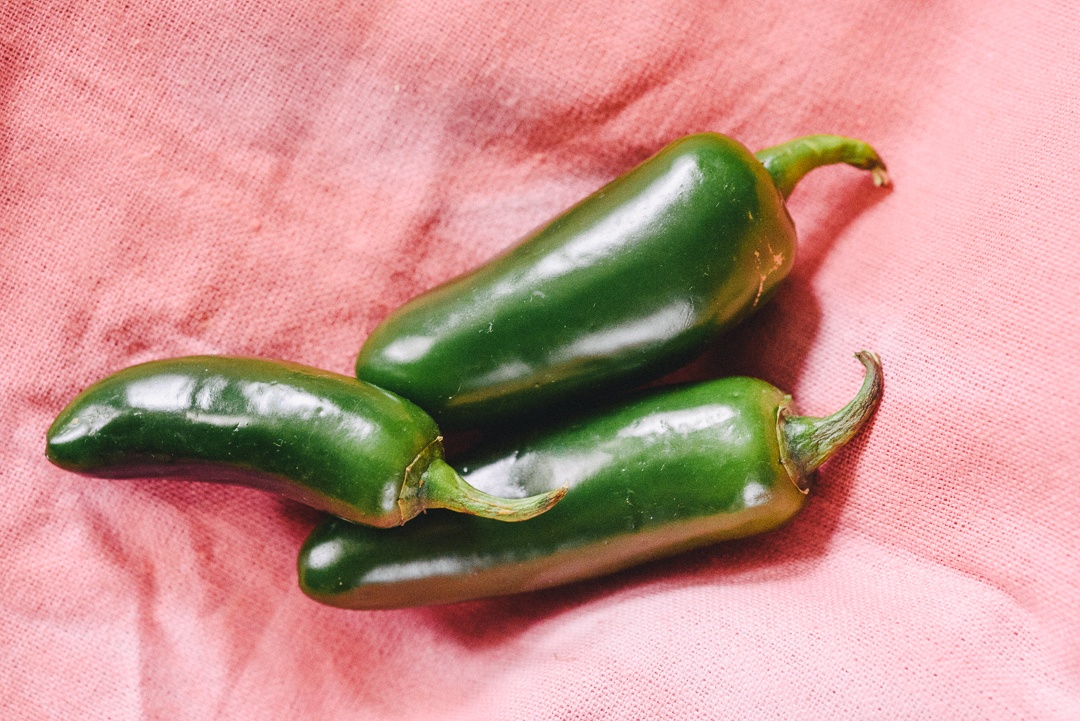 The jalapeño is a widely popular and well-known pepper in the States. It's named after Xalapa (sometimes spelled Jalapa), the capital city of Veracruz, Mexico where it was traditionally cultivated. Jalapeños are commonly seen green, however, can ripen to red. Fun fact: the extent to which you see "corking" or the small brown lines on the skin of jalapeños, the hotter they typically will be. So next time you're at the store, if you're looking for heat, grab the jalapeños with greater corking. If you're feeling a bit more mild, look for peppers more like the ones you see pictured above. Smoked and dried jalapeños are known as chipotle.
The perfect pepper for some gentle heat in salsas.
Scoville Heat Units: 3,500 to 8,000
Shishito Peppers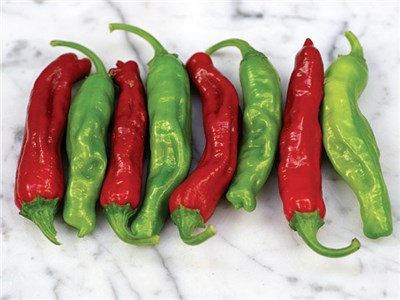 In the United States, shishito peppers are having their moment. These delectable, thin-walled, crunchy peppers have only a hint of heat and a great balance of sweet. Most commonly picked when still green, these peppers also ripen to bright red. Popular in Japan, shishitos are best when treated simply - blister the skin in a pan with just a touch of olive oil then season with salt and pepper and enjoy whole.
See our recipe for Charred Shishito Peppers.
Scoville Heat Units: 50 to 200
Bull's horn peppers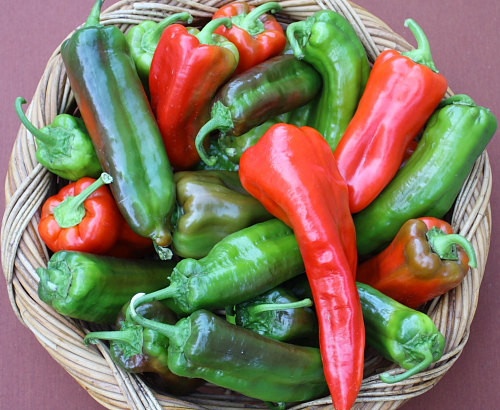 Bull's Horn Peppers are an Italian heirloom variety of pepper. Sweet, crunchy and perfect for frying, these colorful peppers are a summer treat. Similar to bell peppers, Bull's Horn Peppers can be picked when less ripe and green or when fully mature and red, yellow or orange.
Scoville Heat Units: 0
Hungarian Hot wax peppers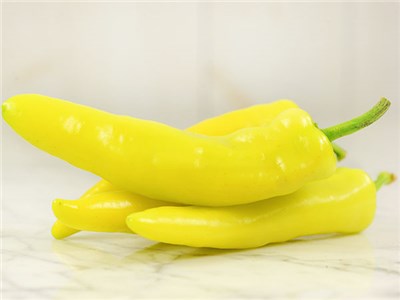 Hungarian hot wax peppers look quite similar to the mild banana pepper - but don't let the looks fool you. Hungarian hot wax peppers pack way more punch! Originating from Hungary, these peppers are great for cooking, pickling, eating raw or incorporating into a spicy sauce or marinade.
Scoville Heat Units: 5,000 - 10,000
---
Haven't tried Boston Organics but ready to enjoy fresh, organic produce delivered to your door?