Topic: The Boston Organics Crew
Recent Posts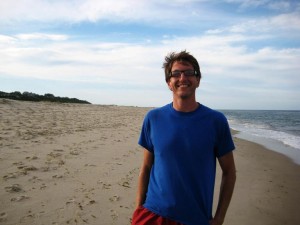 Andy is one of our Delivery Drivers (or "Produce Ninjas," as we like to call them) and he's been doing his job to the fullest for almost 4 years!
Andy started at Boston Organics while we were in the midst of growth, and he has filled in wherever needed. Though he's currently a driver, he has also worn many hats during his time here at Boston Organics, helping with customer service, computer networking, supervising, and delivery routing. He is a true small business stud! Currently, he is one of our most veteran drivers and enjoys the freedom of the road.
We think Andy has a pretty cool story, so we got a chance to catch up with this gentle Produce Ninja to get the scoop.
Where are you from?
"I grew up on a farm in Ohio, but I lived and went to school in Kentucky, so I feel more connected to Kentucky. The farm I grew up on was a stereotypical Midwest farm - we raised cattle and grew wheat, corn and hay."
How did you get started at Boston Organics?
"When I came to Boston I was eagerly looking for work. I applied to over 200 places in the Boston area, including Boston Organics. Boston Organics always stood out because I didn't have any moral issue with the company. They were trying to do something good, you know, feeding people in a sustainable way. Most of the other companies seemed to just be about money. I think Boston Organics is doing something good in the world."
Where do your interest in organic food and the food system come from?
"My interest in organic food was inspired by a professor I had at Morehead State University in Kentucky. He was really into sustainable living and owned a small homestead farm. He took some of us on a tour and showed us these elaborate circular gardens he made. He was really into companion planting, where one plant attracts bugs that eat the bad bugs that attack the other plant. He showed us that everything in his garden had a purpose. It was cool to see all of the vegetables and flowers growing that he had planted by hand and had grown naturally."
"This is a weird story. At one point my professor had an idea to start a free school for this kind of natural agriculture and asked me and my friends to help him build it in the woods. It seemed a bit crazy, but we liked him so we helped anyway. It was pretty cool because he showed us how to build a structure without any electric tools, though I don't think his school ever turned into anything."
What's your favorite thing about working here?
"My favorite thing about working here is the change of lifestyle that I was introduced to. When I started working at Boston Organics, I was 290 lbs. I used to eat about 10 times the amount of meat that I do now, including chicken nuggets and other frozen foods, because I didn't really know how to cook for myself."
"Boston Organics allows us to take home some of the fresh produce that is left over from the week before they donate it. I'm not one to pass up free food so I started to take a box for myself. All of the fresh produce I was getting forced me to learn how to cook. I started making stir-fry's with quinoa and organic produce all the time and began to lose weight."
"In addition to cooking, my job is very active. I run almost all of my deliveries and keep my heart rate up. This change in lifestyle enabled me to lose 100 lbs!"
"I'd say I eat more now than I did when I was overweight. At one point in my life I was 325 lbs and eating really bad food. Now I am way leaner and put away the veggies!"
Any advice about switching to healthy habits?
"In losing all of this weight, I also learned that you have to commit to a lifestyle change. You can't just eat one or two good meals; you need to make a permanent change. I'm lucky because with the fresh produce each week, I didn't have to go back to my old habits. You know it's not just the calories that you have to watch; it also has to do with eating food that are high in fiber. If there's anything I can say about diet change, it's that quinoa and veggies are a must! At least for me they were."
Congratulations to Andy for his upcoming 4 year anniversary at Boston Organics! Andy's positive attitude and helpfulness make him a great member of our team.
Be sure to say hello if you see Andy running your produce delivery to your door!
Read More
Topics: The Boston Organics Crew